GUITAR

UKULELE

VIOLIN

CELLO

BASS
STRINGS

GUITAR

UKULELE

VIOLIN

CELLO

BASS
Your guide to all string instruments.
Find the best equipment & songs to play.
We are here to help you choose the right string instruments & teach you how to play your favorite songs. Into Strings is a community of expert musicians here to help you play better.
Acoustic Guitar
The best acoustic guitars for fingerstyle as chosen by a professional guitar player and musician who's played dozens of guitars.
Read More »
Mandolin
In this Gretsch G9350 Mandolin Review, a professional musician and mandolin player offers his firsthand experience.
Read More »
Mandolin
An expert musician and a mandolin player shares his personal experience in this Big Muddy M-11 Mandolin Review.
Read More »
Pick The Piece You Prefer To Play
Find all of the string instruments you could hope to play. Each page has the best songs to learn, buyer's guides, exciting blog posts & more.
Our guide to all of the best guitars on the market today.
All of the best violins and bows for pros and beginners.
The best banjos for a hootin' hollarin' good time.
The best mandolins for a that unique sound.
Our guide to all of the best electric guitars that you can buy today.
Our guide to all of the best ukuleles that you can buy today.
Find the best cellos on the market for serious musicians.
Get the loud sound you want with a electric.
If you're looking for the perfect guitar, ukulele, bass, or cello, you've come to the right place. Our buyer's guides are the most in-depth online.
Learn songs for free by following along with expert musical teachers. Also learn essential chords and techniques. Just choose an instrument from above and at the bottom of the page you'll find video lessons to get you started.
We are dedicated to helping beginners and professional musicians learn which instruments are best for them, the most important techniques and how to play the songs they love.
We will never review a product unless we have used it ourselves. We will always have professional music teachers who really know their instruments and can help you out.
Meet the musicians behind Into Strings. Each of our writers and content creators is either an avid player or a teacher of the instrument they write about. Many of them have been playing their instruments professionally for dozens of years. In total, our team has over 200 years of experience playing their respective instruments. We take honest, unbiased reviews and musical tutorials seriously. You'll only read from qualified musicians on this website.
Alice Gott
Writer / Cellist
As founder and cellist of the Lazarus String Quartet, Alice Gott is regularly on tour around the globe. Her knowledge of cello, violin, classical music and string instruments in general comes from a lifetime of work and performances in this special formation: two violins, a viola and a cello.
Ryan Burns
Writer / BANJO TEACHER
Ryan Burns is a banjo player, songwriter, and producer from Chicago, IL. He has been playing banjo for ten years Ever since he was in preschool he's been singing and performing, but he started pursuing music as a career after receiving his BA in Ethnomusicology from the University of Illinois in Urbana Champaign.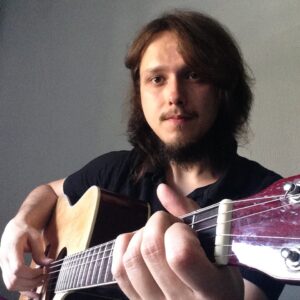 Anthony Lowski
Writer / MANDOLIN PRO
Anthony is a creative musician with years of experience as a guitarist, pianist, singer and composer. With several rock albums and tours around Europe under his belt, his music expanded into music soundtracks for video games and short films. He studied classical piano in Moscow at a young age. 
Hannah Frey
WRITER & PROFESSIONAL VIOLINIST
Hannah Frey received both her Bachelor and Master of Music degrees from the Cleveland Institute of Music where she studied with Linda Cerone and William Preucil. She has been teaching for over 25 years and has pedagogy training through various Suzuki Institutes, and has attended Indiana University's Retreat for Violin Teachers with Mimi Zweig and taken courses on the Mark O'Connor Method and the Creative Ability Development Method.
Brian Lamacraft
WRITER & ACOUSTIC GUITAR TEACHER
Brian became an avid music student learning to play both acoustic and electric guitars professionally. His first teacher was Eddie Fryer, the half-brother of Eric Clapton.
Brian also works at a guitar store where he has the opportunity to play, test and review hundreds of different guitars. He also worked in a guitar factory testing the quality of finished guitars, so he has a unique perspective on the instruments, how they're made and how they're meant to sound.
Eilish Spear
WRITER & PROFESSIONAL VIOLINIST
Eilish Spear attended the Oberlin College and Conservatory, where she earned degrees in Viola Performance and Politics and graduated with distinction in May, 2020.
 A student of Kirsten Docter, she has performed and recorded with the Oberlin Orchestra, Oberlin Contemporary Music Ensemble, and the Harp Quartet, with whom she was selected for the competitive Advanced String Quartet seminar from 2018-2020.