We are the experts in all things strings! Our team of professional teachers and musicians are knowledgable in violin, viola, cello, banjo, ukulele, acoustic guitar, electric guitar, bass and more.
We pride ourselves on providing you with expert opinions and information.
This isn't a website filled fake reviews and ghost-written articles. Every article on our blog has been written by a professional musician or an expert of that particular instrument. You can rest assured you're getting honest, accurate advice.
Our aim is to help you choose the best instrument for your needs whether you're just starting out, or are more of an advanced student. We also share advice and tips on maintaining your instrument, playing songs, and finding the best accessories for your string instrument.
Assisting you on your musical journey.
Our team of musicians and writers have been perfecting their craft for decades.
Performing professionally in orchestras, bands, and concerts around the globe, these musicians also hold Bachelor's degrees and Masters in music and are teachers of their instrument. 
Our team is a diverse group of passionate musicians and writers from around the world who are here to help you with your musical journey.
Our goal is to offer the best, most in-depth instrument reviews, buyer's guides and music playing tutorials online. Our team of professional musicians don't just know their instruments, they are teachers, professors and professionals in their fields.
We will never do a review on a product that we haven't tested and all of our instrument lists and buyer's guides have been researched by our professional musicians and writers. You can rest assured that our recommendations are coming from people who know best.
Our Team Of Professional Musicians
Meet the musicians behind Into Strings. We have a group of professionals, teachers, and composers all here to help ensure that you know everything you need to know about your chosen instrument, how to shop for it and how to play it properly.

WRITER & PROFESSIONAL CELLIST
As founder and cellist of the Lazarus String Quartet, Alice Gott is regularly on tour around the globe. Her knowledge of cello, violin, classical music and string instruments in general comes from a lifetime of work and performances in this special formation: two violins, a viola and a cello.
From a young age, Alice has been fascinated with this family of instruments and has turned her passion into an extremely rewarding career. With two Bachelor degrees and a Master of Music under her belt, she has studied in both New Zealand and Germany.
She now lives in Amsterdam and enjoys a career playing on the highest level in the wider European chamber music scene. Playing regularly with diverse string ensembles, she has experienced performing in some of the biggest and most important halls all around the world.
Alice is constantly busy exploring her setup on the "modern" cello, trying out new strings, endpins and bridges, as well as the experience she has playing the electric cello.
But as well as this, she often spends her time exploring other instruments such as the "baroque cello", or the "viola da gamba". These are both earlier bowed string instruments, which give a lot of insight into how the modern cello came to be, with differences such as no endpin and the use of gut strings!
Alice is well equipped with a lifetime of knowledge about violins, violas, cellos and basses and she is ready to lend a word of advice on the ins and outs of the fantastic world of bowed string instruments!
WRITER & PROFESSIONAL VIOLINIST
Hannah Frey received both her Bachelor and Master of Music degrees from the Cleveland Institute of Music where she studied with Linda Cerone and William Preucil. She has been teaching for over 25 years and has pedagogy training through various Suzuki Institutes, and has attended Indiana University's Retreat for Violin Teachers with Mimi Zweig and taken courses on the Mark O'Connor Method and the Creative Ability Development Method. Hannah is on the violin faculty at Washington University of St Louis and Lindenwood University, teaches in the Kirkwood School District, and also has a large private studio.
Hannah is an active chamber and orchestral musician. She is a member of the Perseid Quartet and Third Millenium World's Fair. She plays concerts regularly with the Metropolitan Orchestra of St Louis, the Union Avenue Opera Orchestra, and with visiting shows at the Fox Theatre. She has performed or collaborated with many other groups in the area including the St Louis Symphony, the Illinois Symphony, Chamber Project St Louis, and the Shakespeare Festival St Louis. She was recently a featured soloist with the Metropolitan Orchestra of St Louis, and has played concertos in the past with the National Repertory Orchestra, the Davidson College Symphony Orchestra, and the Presbyterian College Chamber Orchestra.
Before moving to St Louis, Hannah was a member of several different orchestras including the Charlotte Symphony and the ProMusica Chamber Orchestra. She has also held the positions of concertmaster of the Mansfield Symphony, assistant concertmaster of the Cleveland Chamber Symphony, and was a regular substitute with the Columbus Symphony Orchestra.
WRITER & ELECTRIC GUITAR TEACHER
Ricardo Alvarez is a Saint Petersburg based guitarist, producer, and writer who has been honing a successful multi-disciplinary career over the last decade.
After obtaining a B.F.A. in music in 2013, Ricardo started working immediately as a remote teacher and arranger for the Got Talent's franchise. He went on to work as an orchestra musician, musical director, and occasional fly-on act onboard several cruise lines, where he got to perform daily for crowds with over a thousand people at once.
In 2019 he anchored himself to Saint Petersburg in order to explore a renewed phase as a producer and writer.
Often described as a cross between guitarist Bill Frisell, minimalist composer John Coolidge Adams, and producer J Dilla, Ricardo's music delves into ethereal tones, calmed melodies, and eclectic textures laid over hard grooves.
Ricardo's writing skills have allowed him to work daily as a freelance lyricist songwriter, content writer for business, and music-related e-magazines and websites. His music and storytelling abilities are now focused on writing and producing content aimed at improving oneself.
Ricardo has received over a million views on YouTube for his emotional film
score tracks and is programmed to launch his first major work as a guitarist producer in fall 2021.
WRITER & ACOUSTIC GUITAR TEACHER
Brian grew up in B.C. Canada, where he has lived for his entire adult life. He grew up in the hay days of the 1980s when rock guitar and heavy metal were topping the charts. He gained his passion for music after hearing the first Van Halen album. His electric guitar and amplifier became his constant companion as he grew up as a teenager.
Brian became an avid music student learning to play both acoustic and electric guitars. His first teacher was Eddie Fryer, the half-brother of Eric Clapton.
His joy for music continues to this day. The biggest highlight of Brian's musical career was teaching younger children to play all of the songs that once inspired him and now inspire a new generation of guitar players.
As he got older, he put music on the back burner for a while and took up writing. This became his second passion and career. He discovered a unique perspective of looking at the world when writing down his thoughts and experiences.
During this time, Brian has written thousands of articles, e-books and produced several novels. Writing has become as important in his life as music is. He covers a wide range of different topics, but its main focus is always music and especially guitar playing. He is currently working on several novels and writing articles for various websites online.
In his spare time, he enjoys camping and hanging out with his friends at the Royal Canadian Legion. He always brings his guitars along for camping trips, and everyone has a good time listening to music. Other hobbies include reading, listening to live music, computers, and sampling fine whisky. His future plans include traveling and purchasing more guitars if his wife will let him.
WRITER, COMPOSER & PROFESSIONAL BANJO PLAYER
Ryan Burns is a banjo player, songwriter, and producer from Chicago, IL. He has been playing banjo for ten years along with many other instruments including guitar, mandolin, piano, ukulele, and bass. Ever since he was in preschool he's been singing and performing, but he started pursuing music as a career after receiving his BA in Ethnomusicology from the University of Illinois in Urbana Champaign. 
After college and inspired by the banjoists in The Avett Brothers, Mumford and Sons, and the movie O Brother Where Art Thou he started diving deep into the world of bluegrass banjo and hasn't come up since.
While other musical pursuits pull at his time, banjo is Ryan's real passion. His playing is inspired by his banjo heroes Bill Keith, Noam Pikelny, Alan Munde, and of course Earl Scruggs and centers around a melodic style with a base of solid Scruggs rolls. He attended the Bela Fleck Blue Ridge Banjo Camp, studied under Greg Cahill, and recorded banjo for a variety of projects. 
For the past seven years he has also taught banjo with a growing studio of students from elementary school age children to retired brain surgeons. When he isn't writing or teaching he performs and records with his bands Ryan Burns & The Vocal Ghosts and Distant Brothers as well as his solo work.
The pride and joy of all of his possessions is a mahogany Sullivan Festival with a JD Crowe tone ring, though he also owns a 1981 Deering Basic. Outside of his music Ryan enjoys cooking, playing tabletop RPGs, reading and writing poetry, and exploring the city of Chicago. 
WRITER & PROFESSIONAL CELLIST & TEACHER
Randy Nashleanas was born and raised in sunny South Carolina. He attended the South Carolina Governor's School for the Arts and Humanities in Greenville as well as the Cincinnati Conservatory of Music in Ohio for Cello Performance.
Randy has been playing the cello and acoustic guitar for nearly 20 years, and is also an online cello and guitar teacher.
Through Randy's musical endeavors, he also found his way into being part of AmeriCorps NCCC, All Hands Volunteers (a natural disaster relief organization), and has traveled the world from all around the US, Italy, and Nepal.
Not only did he rebuild homes and schools destroyed by floods and earthquakes, but he has connected broken communities through the world's most influential universal language, music.
In Italy, he performed with the Governor's School in 5 different cities including the Vatican. Cities traveled was Florence, San Gimignano, Rome, Siena, Milan, and Venice. While he was in Nepal with All Hands Volunteers, he still made time to perform music in the capital of Kathmandu and surrounding remote villages.
To continue his music career and avoid injuries, he has taken a step back from the world of disaster relief construction but continues to spread awareness about natural disasters on a daily basis.
Randy now resides in Medellin, Colombia pursuing his online music teaching career as well as freelance writing.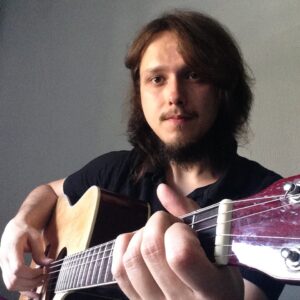 WRITER & PROFESSIONAL MANDOLIN PLAYER 
Anthony is a creative musician with years of experience as a guitarist, pianist, singer and composer. With several rock albums and tours around Europe under his belt, his music expanded into music soundtracks for video games and short films.
Originally born in Russia, he studied classical piano in Moscow at a young age. In his early teen years, he migrated to Europe, where he started writing simple songs, becoming frontman and founder for several local bands. Hugely inspired by bands from the 60s, he started creating psychedelic riffs and progressions. His passion for composition and creation of unique soundscapes had begun. 
Some years after he already started playing shows all around the country and recording several albums with different bands including Electric Riders, The Soulbreaker Company, Sacramento, Devils Gardens and The Junk Band. During many of his live shows, he was able to play as a support band with Dead Meadow and the Sadies. 
A multi-instrumental nature of this artist gave him an opportunity to play and record instruments such as acoustic/electric guitar, bass, synths, organ, piano, mandolin, harmonica and drums. With an enormous quantity of songs written in a huge variety of styles like Rock, Metal, Folk, Blues, Heavy-Psycho, Jazz and Electronic, he became a well-established music composer and producer. 
Along the years he developed new skills like mixing, mastering, sound design and dynamic system design and production for interactive music. Currently, he is working on several video games as a composer, sound designer and narrative writer, where he is able to tell stories through his music and writing. 
As a big sci-fi buff and now experienced writer, Anthony is working on his first fictional novel inspired by stories of Arthur C. Clarke and Michael Crichton. The other great passion of this artist is Classical Music, mainly classic and romantic era. 
He is used to taking inspiration from many composers like Stravinsky and Shostakovich, and bring some of those interesting ideas to his own music. The other great passion of this artist is Classical Music, mainly classic and romantic era. He is used to taking inspiration from many composers like Stravinsky and Shostakovich, and bring some of those interesting ideas to his own music.
With a huge emphasis in cinematic and atmospheric undertones, Anthony always creates his own unique sonic nature, through daring note progressions and vibrant sounds, that he carefully selects for every piece of music.
WRITER & PROFESSIONAL VIOLINIST
Eilish Spear attended the Oberlin College and Conservatory, where she earned degrees in Viola Performance and Politics and graduated with distinction in May, 2020. A student of Kirsten Docter, she has performed and recorded with the Oberlin Orchestra, Oberlin Contemporary Music Ensemble, and the Harp Quartet, with whom she was selected for the competitive Advanced String Quartet seminar from 2018-2020. 
She has been teaching for 10 years, and at Oberlin, she helped found and direct the Oberlin Strings at Grafton Correctional Facility program, where she taught 15 incarcerated men beginning violin, viola, and cello.
An advocate for obscured voices in classical music, Spear is committed to promoting both contemporary and historical works by women composers and composers of color. In 2016, Spear performed onstage with legendary jazz trumpeter Terence Blanchard for his 2007 work "A Tale of God's Will (A Requiem for Katrina)," originally written for Spike Lee's documentary series on Hurricane Katrina. 
In February 2019, she presented a recital of works composed by women, and spent the spring of 2019 writing an extended essay on the experience of composers who do not identify as cisgendered white men. In the 2019/20 school year, Spear worked on developing a concert series dedicated to the performance of works by Oberlin composers and others that are traditionally excluded from mainstream performance.
Spear currently works as the editorial assistant and fundraising coordinated at the San Francisco based nonprofit The ClimateMusic Project, which combines climate science with original music to communicate a sense of urgency about the climate crisis and inspire meaningful action. She lives in Denver, Colorado.